April 27, 2018
4:00 pm
to
7:00 pm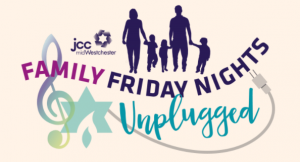 Join us for a family evening free from electronic distractions! Activities include a family concert with ShirLaLa, dinner,  free swim, indoor play structure, table games, and much more. Come connect with your family and community without the pull of electronics.
4:00 p.m. – Doors open for swimming and indoor play
5:00 p.m. – Program, dinner and activities
6:00 p.m. – Concert with ShiraLaLa!
6:45 p.m. – Dessert
Tickets are $15/family in advance or $20/family at the door. Includes FREE babysitting for children under 5 years old.
RSVP here!
For more information, please contact Ivy Schreiber at JCC of Mid-Westchester at schreiberi@jccmw.org.
Leave a Reply
Posted in Shira's Concert Schedule