Shabbat | Passover | Chanukah | Earth Worm Disco
Recordings
Click HERE for lyrics and guitar chords for ShirLaLa CDs
All recordings by ShirLaLa are available for purchase below.
The ShirLaLa Holiday Series is a set of lively and engaging recordings that capture each Jewish holiday with prayers, blessings, storytelling, and artwork. The interactive and dynamic music is very sing-able and very very dance-able. Perfect for the home and classroom, no family should be without it! Earth Worm Disco is Shira's latest project, award winning eco-music for a new generation of little rock n' rollers who love to sing and dance and love our planet too.  It's a musical playground for growing up green. Visit www.RockinOutGreen.com for lyrics, photos, eco-resources and updates.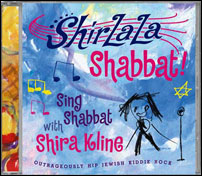 ShirLaLa Shabbat! is packed full of wonderful Shabbat music including prayers, blessings, traditional Shabbat melodies, as well as some rock-n-roll clappin', singin' and dancin' music for children and their parents. Listening to the entire CD offers a rich, full Shabbat experience, but each track was arranged as its own amazing Shabbat song celebration. Parents, the end of the CD was created especially for you –it includes a prayer for peace, a meditation on the Sh'ma, and a very holy blessing to give your children. I hope that ShirLaLa Shabbat! inspires and nurtures your home as you celebrate this special day. Enjoy!
Listen to sound clips from the album:
»top
---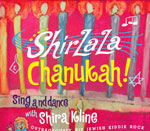 ShirLaLa Chanukah! Join Shira for a lively storytelling of Judah Maccabee and the Chanukah miracle, followed by spirited and dynamic holiday music in many styles: Traditional, Middle Eastern, Ladino, Yiddish, Jazzy Lounge, Rock-n-roll, and Hip Hop! Also included are three bonus tracks for your at home family celebration and an original Chanukah comic book. Interactive and engaging, this music will hook both children and parents alike, and leave lasting memories of a truly musical holiday.
Listen to sound clips from the album.
Hal'l'l'l'l'luyah
I am Antiochus
Where Is It
Go to sleep, Wake up!
Who Fought Antiochus
Sivivon Sov Sov Sov
Five Little Latkes
Ocho Kandelikas
This Little Light of Mine
*Bonus Tracks – at home rituals!
Chanukah Brachot
Maoz Tzur, Mi Y'malel
»top
---

ShirLaLa Pesach! Join the children of Israel on an extraordinary musical journey from slavery in Egypt, across the Red Sea, and all the way to freedom in the Promised Land. In the third album of the Outrageously Hip Jewish Kiddie Rock Holiday Series, Shira Kline celebrates Passover. Crunch on matza, jump like a frog, ask the four questions and dance with tambourines until you're silly! Special bonus tracks are included for your at-home family celebration. With its spirited stories and songs, this interactive and engaging Passover album, a great companion to the Haggadah, is a hit with parents and children alike!
Listen to sound clips from the album:
Hal'l'l'l'luyah
Let My People Go
Listen King Pharaoh
Frogs
Miriam's Song
Kadeish Urchatz
Mah Nishtana
Passover Game
Who Knows One?
Bashana Haba'ah *Bonus tracks – at home celebration!
Candle blessing for festivals
B'tzeit Yisrael
Adir Hu
»top
---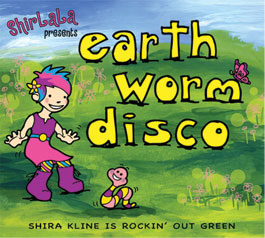 Shira Kline brings eco-music to a new generation, celebrating the wonders of growing up green! Meet Mother Earth, Dr. BreathEasy, LaLa, and the G-Generation: The Earth's Seven Mighty Powers.  EARTH WORM DISCO is a musical playground for all of the little rock n' rollers who love to sing and dance and who love our planet too!  In the spirit of "School House Rock" and "Free to Be You and Me," these clever, catchy songs are for children and parents alike.
Visit www.rockinoutgreen.com for mp3 downloads, photos, lyrics and sound clips.
»top
---
Prefer to pay by check? Send your check for $15.00/CD plus $3.50 for the first 2 CDs and an additional $1/CD for postage and handling directly to:   Shira Kline 14 Judge Street, Rear House Brooklyn, New York 11211 Be sure to specify how many. Order your CD with a signed autograph and personal message from Shira. Just send me the names you'd like included!