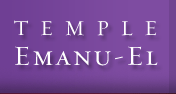 Join Temple Emanu-El Young Families Shabbat for singing, storytelling and warm-hearted interpretation of traditional Shabbat prayers. Each week there is also a creative art project as well as a delicious Oneg Shabbat gathering with a light meal and treats.
1 East 65th Street (@ 5th Ave)
New York, NY 10065
Fore more information contact (212) 744-1400. RSVP for all Young Families events to youngfamilies@emanuelnyc.org or (212) 744-1400, ext. 242.
Leave a Reply
Posted in Shira's Concert Schedule