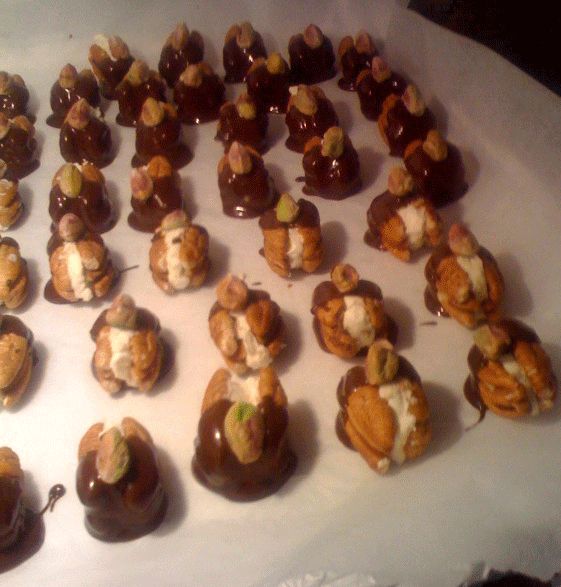 All my life I've heard people say, "I hate Passover, you can't eat ANYthing!" And I've always shaken my head and said, "You need to come over to my house." Passover is straight up my favorite holiday because the food is SO GOOD! A large part of my Jewish identity was clearly formed by the gustatory traditions for each and every holiday of the year. My mom went to town creating our family's food rituals mixing her Hungarian roots with a heavy handed cup of her love for Sephardic food. She also had the task of cooking almost entirely meatless menus for my vegetarian family.
To this day, every holiday throughout the year has a specific set of dinner entrees, side dishes, noshes, and desserts. But none more than Pesach! It's always been a goal of my mom to make the holidays extra special by creating a wonderland of delicious and memorable foods. During Pesach she keeps the cupboards stocked with Pesadig candies and chocolate from Israel. As a child, when there was a birthday party to attend during the holiday, she sent us along with our own amazing treats. This also really helped to curb the difficulty of going through the American Easter holiday season with all the Easter baskets piled high with (non-Pesadig) chocolate.
Let's see, a typical Passover day's meals might include:
Breakfast: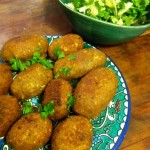 The Grown-up Breakfast. This is broken up matzah in a bowl with coffee and warmed milk and sugar carefully poured over it. A Hungarian tradition. My brother, sister and I still cannot understand why any grown-up would choose this over the best pancakes every invented.
The Kids Breakfast. Matzah meal and egg white pancakes, each one a puff of love served with pure maple syrup – special for Passover.
Lunch:
Matzah Brie. Now every family has a different recipe, my mom's is a loose scramble of sliced carmelized onions, whipped eggs, salt and pepper, and quickly soaked matzah broken up into large pieces so it stays crunchy.
OR
Moroccon Omelet. Diced potatoes, carrots, parsley and garlic baked into an egg omelet spiced with tumeric, salt and pepper.
OR
Lotsa Matzah! with a spread of cheeses and salads. Steamed artichokes left over from the artichoke petals served at seder with my mom's home made mayonnaise – special for Pesach. My mom usually ate cottage cheese toped with diced fresh carrots, scallions, tomatoes and cucumbers so she could splurge on one whole matzah liberally spread with sweet butter and sprinkled with kosher salt. I can still picture her face as she prepared this exceptional treat for herself.
Oh yes, and the U-Bets chocolate milk! Growing up, chocolate milk was a special treat reserved only for Shabbat (no wonder I love Shabbat so much) and on Pesach we always had the jar of U-Bets Chocolate Syrup which lasted far longer than the holiday but just was not as interesting or appealing after those eight days. Special for Pesach: Brown Cows, a yummy drink of chocolate milk mixed with soda water.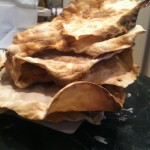 NOSH:
Frequent refrigerator raids for matzah brickle (see below), chocolate covered strawberries or whatever other left overs we could slice off or dig into.
OR
Compote. A sweet dish of cooked dried fruits in their own thick syrup. One time she poured chocolate into paper muffin cups, creating chocolate shells and served the compote in those! I'm telling you, my mom holds nothing back when it comes to holiday food prep!
OR
More Matzah! with anything you can imagine on top, especially leftover charoset from the seder.
Dinner:
Matzah Ball Soup. Now my mom always makes two kinds of matzah balls. One for my dad, the traditional heavy German "cannon ball" matzah balls, a recipe passed down from his great-grandmother. And the 2nd kind is a lighter mixture based on a Hungarian recipe mixed with chopped almonds, parsley, fresh ginger and soda water. Also, because of the vegetarians at the table, French onion soup (no cheese) replaces the more traditional chicken soup.
OR
Kubeh (KU-beh)! This one we would fight over. One of the few exceptions of meat in the house, this is a Sephardic treat of thick breaded (matzah mealed) dumpling stuffed with spiced ground lamb and fried.
OR
Edam Cheese and Spinach Souffle, my sister's and my favorite.
Desserts: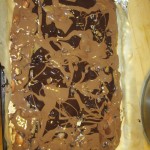 The Brickle. Quite possibly every chocolate lover's fantasy, the brickle is a delectable sheet of broken up matzah, topped with toasted almonds, topped with home-made caramel, and topped off with a swirl of milk and dark chocolates.
OR
The Seven Layered Matzah Cake. 7 matzot soaked in wine and layered with a sauce of chocolate combined with rasberry jam, egg, butter, and brandy. One year, I completely O.D.'d on this cake and haven't really been able to eat it since.
OR
Fresh Strawberries Dipped in Chocolate
OR
Coffee Flavored Meringues (most of these can be made non-dairy to go with the seder meal of lamb.)
OR
Flourless Chocolate Cake
OR
Pecan Bonbons. These may be a little over the top, but what else is a holiday for? They are pecan halves filled with butter cream laced with brandy, topped with a pistachio, and then dipped in chocolate.
Door's always open, come on over!
Leave a Reply