May 23, 2020
11:00 am
to
11:40 am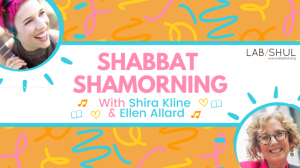 Join Shira Kline (aka ShirLaLa) and Ellen Allard for Saturday morning song, dance, and Lab/Shul Love for families with young children. Tune in with your little ones for heartwarming time together and a weekly pause for collective joy. Wear something special, invite your puppy, bring your instruments, let's play. Whether you're a regular Saturday morning Sh'ma Singer or it's your first time in the expansive garden of Shabbat, all are welcome. FREE!
Time: 11:00 a.m. – 11:40 a.m.
To reserve your seat, please click here.
The event will be held via Zoom at https://urj.zoom.us/j/399238417.
Leave a Reply
Posted in Shira's Concert Schedule