Welcome to ShirLaLa!
Outrageously Hip Jewish Music for Kids!!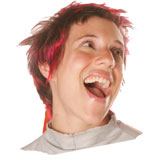 Join me, Shira Kline, and thousands of children, parents and students of all ages in a unique and compelling approach to Jewish education.
Together we enrich, nurture, and inspire Jewish life, identity, celebration and rituals.
Open your mouth, take a deep breath and sing!
Parents and Educators:  Check out BLOG SAMEACH! A resource center especially for you.  Coloring pages, stories, recipes, and much more…
SHIRLALA CONCERTS all over the nation! Can't wait to see you there…
"I had so much fun my armpits are sweaty and stinky!" – Isaac, age 5 in Memphis, TN
Learn about Shira's PROGRAMMING for kids, parents, teachers, synagogues, schools, etc…
Bring the celebrations home with you.  Own the SHIRLALA HOLIDAY SERIES!  Sing along and dance and jump up and down and learn and listen and laugh and clap and…


"I was bowled over with how dynamic her songs are, how much energy she has and how fun she is!"  -Wisconsin Jewish Chronicle
NEW MUSIC, Earth Worm Disco! Visit www.RockinOutGreen to hear a sample now!